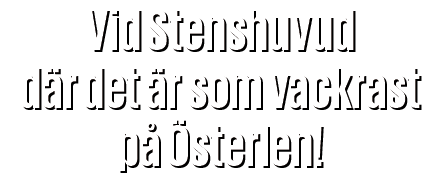 WELCOME TO ETERNELLGÅRDEN!
We who live in the farm are named Peter and Ninni. For many years we cultivated immortelle on the farm, hence the name Eternellgården. Now we have three different properties for rent. Self-catering during the summer and other times of the year. You can choose to stay day, weekend or week. We have WiFi and charging station for electric car.
During the summer, our guests can buy freshly harvested organic vegetables and eggs from our hens if we have surpluses.
Peter who is house builders and beekeepers are happy to show you nice bees and sell honey. During the season, our guests can see  honey harwest.
If you want more information or book – please contact us!
Tel: Ninni: 0730-42 27 49 • Peter: 0705-34 27 54 or by email: info@eternellgarden.se
Eternellgården – välkomna!
Eternellgården in Brief
Here you can stay in self-catering weekly, weekends or day. We are located between Svinaberga and Stenshuvud National Park. Eternellgården is a perfect accommodation for those who enjoy nature, hiking, swimming and fishing. 6 km to Viks golf and close to restaurants and also everything else that Österlen can offer of nature experiences and more. We are open all year round with winter insulated accommodation with underfloor heating!

Here at Eternellgården we can also offer honey sales from our own bee farms.